If I remember correctly, my discovery of Converse Allstar shoes was back in the late '80s. I had a friend that her dad was living in the US, and every time she went to visit him, she used to come back with new cool things you can only see on people from the US. She had Debby Gibson perfume and AllStar shoes; I was jealous. 
Back then, Israel only started to broadcast cable TV channels like MTV and Sports like the NBA. We began to see commercials for Nike, Adidas, and McDonald's, but we still didn't have them in Israel. 
I remember when we started to have Allstar in Israel; they were expensive, so my mom bought me a fake Fugazi AllStar ("fake" according to the sneakerhead jargon). I didn't care, it was a good copy of them, and most people didn't notice.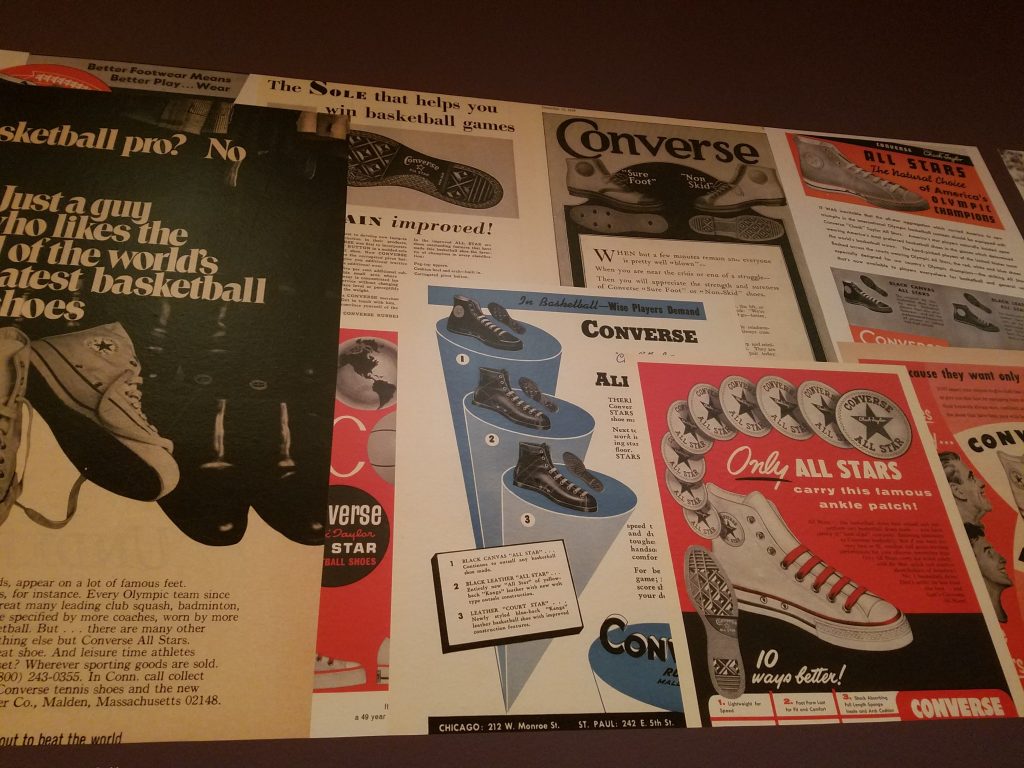 At that time, one of my brothers was playing basketball as a hobby. He was ten years old when he saw Michael Jordan and Magic Johnson playing dreamy basketball as part of the "Dream Team" at the Olympics Barcelona  '92. 
Like any other person in the world, we were utterly charmed by their art of basketball and everything that came with it; Their outfit, shoes, attitude, and swag. My brother was obsessed; he read every piece on Michael Jordan, posters hanging everywhere, and long-lasting longing to pair "Air-Jordan."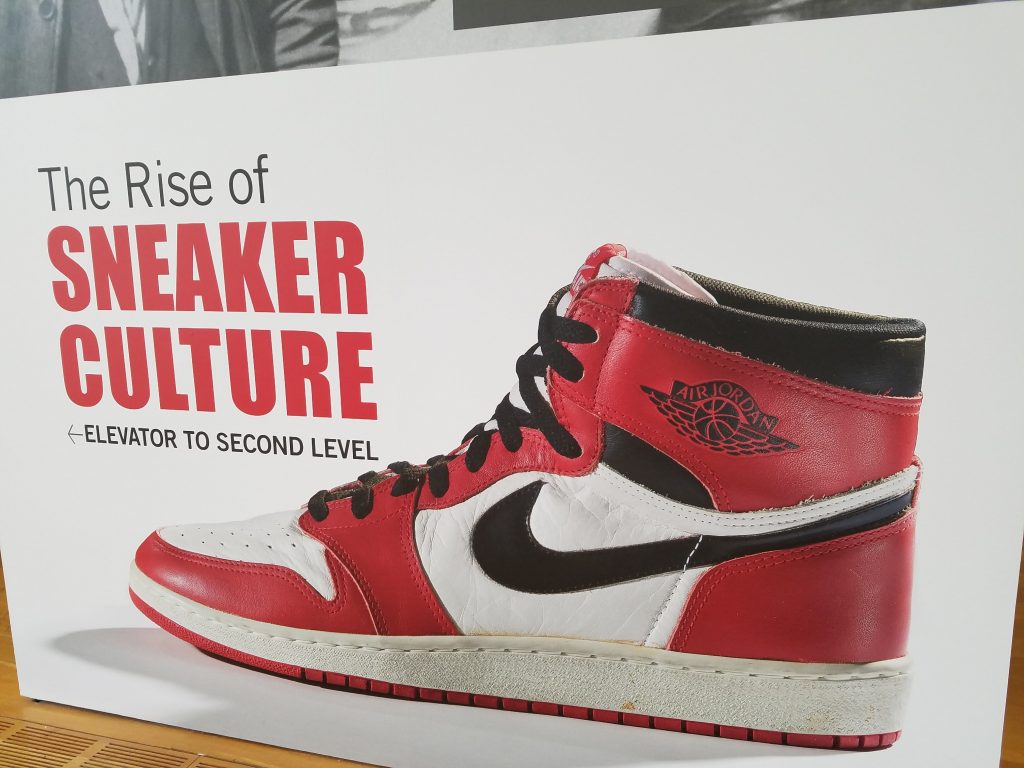 My brother was lucky. When he got older, his shoe size had never been available in Israel (13 US size), so every time someone flew to the US, he brought a new pair of Nike and AllStar shoes in his size. 
While I was working on writing this piece, I watched "The Last Dance" by Netflix (telling Michel Jordan career at the bulls), specifically the fifth episode about "Air Jordan" and how it all started. 
Unlike my brother, I developed an obsession with Adidas and Puma and I was so glad to find out Jordan's first choice was Adidas and yet disappointed they didn't run with it. Everything happens for a reason, and the match between Jordan and Nike started a new area.
"Sneakers were only for basketball, and with Jordan, it became fashion and culture." Said Roy Johnson (Future Magazine, The Jordan Effect), and I couldn't agree more. 
While I was living in Atlanta, I attended an exhibition called "The Rise of Sneakers Culture," hosted by The High Museum. 
"Air Jordan 1" was the shoe chosen to be on the exhibition's poster and to open it.  I remember the feeling of entering the exhibit hall, seeing all those shoes, thinking about the history, who wore them, and who designed them—giving me the chills just remembering it. 
People came to see Michael Jordan's shoe, which made him jump, score, and be the best basketball player of all time. So much strength in one pair of shoes. 
Back to my obsession with Adidas and Puma; That started when I was a teenager when I couldn't wear Nike (orthopedic reason), and Adidas became my go-to sports shoe that is available in Israel to this day.
During my twenties, I probably spotted in a magazine red Puma sneakers, and it became a dream of mine. On my 25th birthday, my mom took me to NYC for the first time and bought me my dream shoe. Red Puma Sneakers.

The '90s were revolutionary years in a cultural aspect; They brought us Hip-Hop Music, Sex in the City, Seinfeld, MTV and Urban-Street wear. 
It is very rare to meet someone these days that doesn't have one pair of sneakers; Nike, AllStars, or any other brand.
Currently, I have four pairs of sneakers. One of them is very special to be. It was my first AllStars I bought in the US when I moved to ATL.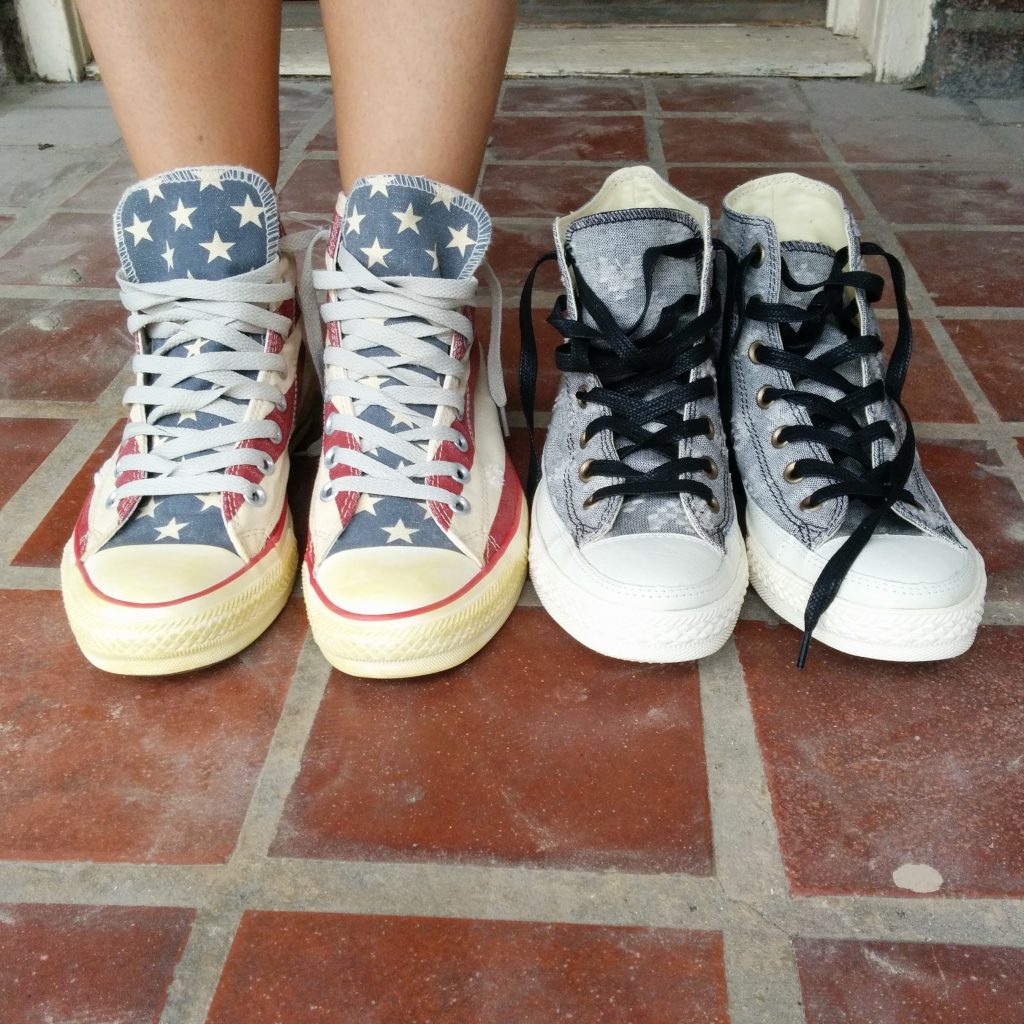 If you ask Sneakerheads if I'm one, they will probably say I'm not cos I don't have enough pairs of sneakers;  If you ask me, I am a total sneakerhead. 
Cheers, 
Hagar 
אז קימונו ליאור מור אלון קצת היסטוריה יפן. הקימונו הוא פריט לבוש מסורתי יפני. אנחנו מכירות ומכירים אותו מדמויות בסרטים, בין אם זאת גיישה או
Read More »
Chains לולאות הגר סידס צמיד של סבתא אני זוכרת את הסבתות שלי באירועים, מגיעות כשהשיער עומד מאוד גבוה בצבע קצת סגול, שמלה מהודרת ותכשיטים. תכשיטים,
Read More »
לה בלה פיגורה הגר סידס פינת רחוב 34 על שדרת ברודווי זאת הייתה הפעם הראשונה שלי במנהטן, הייתי בת 25, היינו ברחוב 34 על ברודווי
Read More »
ויקטוריאני – אוריינטלי הגר סידס "זאת המיטה שלי"  נכנסנו לסטודיו שלו שהוא למעשה הדירה שלו. דירת סטודיו עם שלוש מכונות תפירה, משטח עבודה וגזירה, ספה
Read More »
סיפור על אהבה לנעליים הגר סידס זוג מגפיים בצבע בריק את אהבתי לנעליים קיבלתי מאמא שלי. היא אוהבת נעליים ותיקים. כשהייתי קטנה, היה לה זוג
Read More »
האמת העירומה הגר סידס איזו מן כותבת אני? האמת ששכחתי. מאז שהתחלתי לכתוב (2014), הייתי כנה תוך שאני מספרת סיפור, את הסיפור שלי.בין אם זה
Read More »
AMRIA is the Amor way The combination of the snakeskin with the transparent mesh fabric and the shoe's elegant shape left me wanting to check
Read More »