That Time I was Carrie Bradshaw
It was another election day in Israel. Strange weather. I was in Israel for a few months and lived in the Kiryat Hamelacha area (industrial area. I went on Instagram after I finished my democratic duty and voted. While looking at the Instagram story, I was surprised to find that Noon – a shoe brand that I like, was having a sale at a design studio of a designer named Shahar Avnet that I did not know.
I was looking at the address, and it was close by, so I decided to drop by for a visit. The Kiryat Hamelacha area, as its name implies in Hebrew, is an area of old concrete buildings intended for industry and craft. Situated there today are several fashion designers and galleries, in amongst the urban scent mixed with crime, urine, and prostitutes.
I got on the freight elevator to the right floor and advanced toward the studio door. I opened the door a little hesitantly, and for a moment, I felt like I had moved into a beautiful room.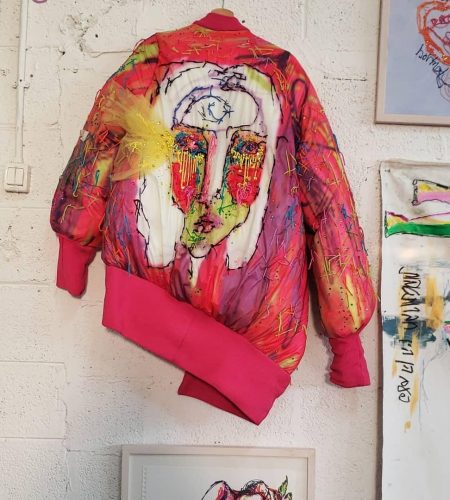 I do not know how to explain the feeling, but try to imagine Alice in Wonderland falling into the rabbit's hole and landing in a magical and dreamy world. That's Shahar Avnet's studio.
I was fascinated by the magic that I had stumbled upon. I looked in amazement at the dresses, the fabrics, the silk, and the paintings hanging on the walls.  
"How fun you came to visit, Shahar, come and meet Hagar," the founders of the Noon shoe brand greeted me.
Big blue eyes, a smile smeared across her face and a black virgin dress turned to me, I knew at that moment that this is Shahar, her personality is so strong.
"Listen, I do not understand what's going on here, what's all this gorgeous clothing? I asked her.
"I was hoping you could do my outfit for my 40th birthday in two months. I've decided just now." I said.

"I would love to!" She replied with a smile. 
When I was 38, I decided that for my 40th birthday I'm going to have an event. The celebration was important to me; I hadn't celebrated my birthday in Israel with my friends and family for five years. 
 A few weeks before my birthday, I sent Shahar a message if she remembered that we had agreed that I would come to her to buy something for my special event. She remembered. We made an appointment, and a few days later, I returned to her magical kingdom; to the stunning studio that makes me want to sleep there every time I go in to visit.
Shahar prepared some fitting options for me in advance. I tried them on; She did not push me towards an item I didn't connect to, just because it was more expensive. It felt more like a friend that was with me and that allowed me to be and feel comfortable with any item I chose for myself.
We chose something! The excitement for both of us was at its peak.
The Result! 
Fast forward three months; in February 2020, the Oscar ceremony, a minute before the world shakes, Gal Gadot (Wonder Woman), appears with a dress from the Givenchy fashion house on the red carpet. The similarity is inexplicable.
I sent Shahar a message, "My dear, we are ahead of our time".
Shahar was so happy: "Couldn't agree more," she replied.
אז קימונו ליאור מור אלון קצת היסטוריה יפן. הקימונו הוא פריט לבוש מסורתי יפני. אנחנו מכירות ומכירים אותו מדמויות בסרטים, בין אם זאת גיישה או
Read More »
Chains לולאות הגר סידס צמיד של סבתא אני זוכרת את הסבתות שלי באירועים, מגיעות כשהשיער עומד מאוד גבוה בצבע קצת סגול, שמלה מהודרת ותכשיטים. תכשיטים,
Read More »
לה בלה פיגורה הגר סידס פינת רחוב 34 על שדרת ברודווי זאת הייתה הפעם הראשונה שלי במנהטן, הייתי בת 25, היינו ברחוב 34 על ברודווי
Read More »
ויקטוריאני – אוריינטלי הגר סידס "זאת המיטה שלי"  נכנסנו לסטודיו שלו שהוא למעשה הדירה שלו. דירת סטודיו עם שלוש מכונות תפירה, משטח עבודה וגזירה, ספה
Read More »
סיפור על אהבה לנעליים הגר סידס זוג מגפיים בצבע בריק את אהבתי לנעליים קיבלתי מאמא שלי. היא אוהבת נעליים ותיקים. כשהייתי קטנה, היה לה זוג
Read More »