How I Felt In My Heroic
by Tali Arbel
A
rriving at Heroic studio on a stormy Israeli winter day just added a touch of romantic vibe to the experience! I was warmly welcomed inside by the talented Roy Tsemach, who founded Heroic house of fashion back in 2014, with a mission to design functional yet sophisticated tailored garments for both women and men.
Roy graduated with honors from Shenkar College of Engineering and Design, and worked for leading Israeli fashion houses, including Sack's and Lee Cooper, as well as with the iconic brand Oscar de la Renta! Don't worry I'll tell you more about it in a sec. 
The first thing that struck me entering the studio was the vibrant unexpected color pallet of the Fall/Winter 2020/21 collection, running from earthy-orange tones to subtle coral, dusty pink, and purple. I wasn't expecting that, normally the dominant colors we see in Fall/Winter are dark and gloomy. For me, being a woman who let's color affect her mood or vice versa, it was quite refreshing and fun!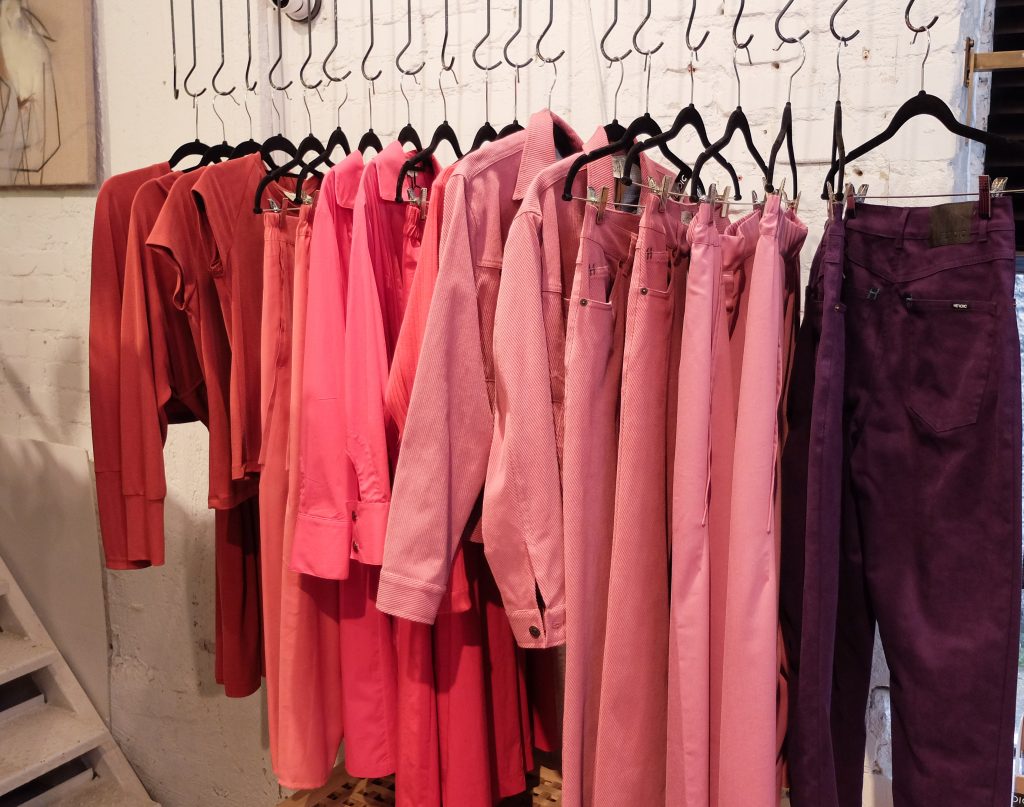 Was there a defining moment in your life that led you to the decision to become a fashion designer? Or did fashion choose you?
"I arrived at fashion from the esthetics aspect. Since the young age of five I was intrigued by it, and used to offer my styling skills to family members, and then altering and tailoring clothes that I bought for myself. I did all of that naturally without overthinking it. In high-school for example my major was physics, which has nothing to do with fashion, however now I realize (in the way that I design) that there is a connection, as I am a very analytical person and it is a tool for me.

I came across the idea of becoming a fashion designer following a spontaneous conversation I had with a partner of a good friend of mine. When he asked me what I wanted to do in life, I answered that I plan on studying Advertising or Psychology. He replied: "you should become a fashion designer", without even truly knowing me. It was his gut feeling I suppose. The next day (after I hardly slept) I enrolled in fashion design studies at Shenkar College. It was a simple and intuitive decision because I realized that what I project outwards, is probably a reflection of what I want to do, from within. I was very lucky in that sense, and felt like I found my true calling."
Tell me about the years after you've graduated from Shenkar, and how did it affect your work at Heroic? 
"Right after my graduation, I started working for Israeli fashion houses, and after about 9 years I met the franchisee of the men's department at Oscar de la Renta house of fashion, who was an Israeli, and he offered me to be in charge of this section. When I started, I had a small office in Ramat Gan, and together with two other designers, we designed the men's collection operation from Israel. Later on, we used to travel twice a season to Oscar de la Renta's main (over-the-top) studio located in Manhattan's 5th Avenue, and boy do I have some great memories from there, like the time I briefly encountered Hillary Clinton(!) in the elevator on my way out for lunch, as she arrived for her fittings with Oscar himself of course.  
How do you describe the Heroic style? And has it changed or evolved over the years?
"The DNA is still present. It's a brand that dresses both women and men, with flexibility and a unisex scent to it. Over the years I can identify some changes in my designs, and it corresponds with the changes and developments that I went through. As my clientele grew, I realized what needed to be done and what necessities I'm interested in addressing. For example, I discovered that pants – good high quality fitted pants – are a real necessity. So I focused more and more on pants and mastered it, which was not easy in fact. Finding local sewing workshops who are capable and willing to take upon the challenges I've posed to them was not easy."
"During my work at Oscar de la Renta I got exposed to everything related to high-end tailoring, quality materials, and meticulous work skills and practices, most of which I took into my brand Heroic. 
Eventually, the men's section was also shifted to NY, and at that point (after two years there) I understood that this is my time to move forward and establish my own brand, in Israel."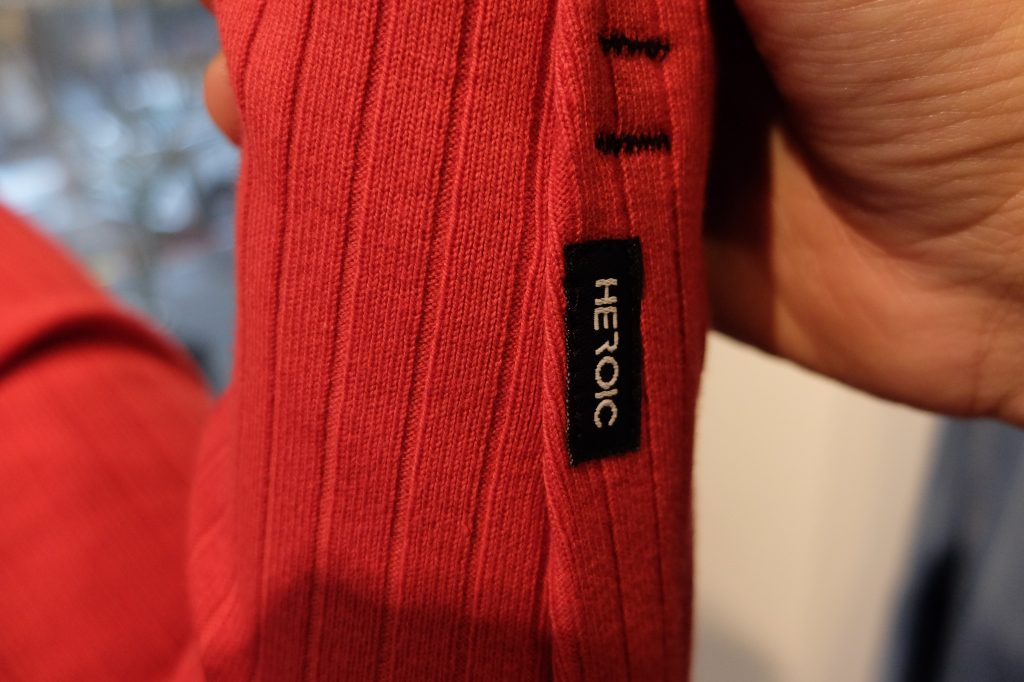 Does your personal style influence your designs? Or maybe the opposite?
"Actually, it's a great question, I think it works both ways. I used to be very conservative in how I dressed, for a decade I relied on skinny jeans and a tight t-shirt, but as I designed more cuts and silhouettes for Heroic, I also started experimenting myself with different options, and this is what I offer to my clients today – a variety of shapes and cuts."
What is your preference – design for women or for men?   
"Well… as a past employee in different brands I mainly designed for men. It was only until I worked in Sack's where I first designed for women – for me that was when I found the passion and true pleasure in designing."
Do you have to be in a specific state of mind in order to create, to design?
"To be honest? I design while I'm in the bathroom, or during meetings and brainstorming with my team.
There's no romanticism here, sorry… who has time to wait for 'inspiration' to arrive?! I don't" he laughs.
"It's much more practical than that. Most of my ideas come to mind when I see and touch fabrics, I always start a collection by choosing the materials and fabrics first.
Lastly, a lot of ideas (or inspiration if you may) come up during interactions with my clients, when I see and hear their needs. I can't start working if I don't have a clear challenge. So you know what? I think we found the answer to your question – I need the challenge to create!"
If you had to choose one fabric and design an entire collection out of it, what would it be?
"Wow, this is a tough one. Well, I think I would go for French-Terry (the fabric from which sweatshirts are made), actually my first collection was made of French-Terry. And you know what? In my mind, I can already envision a few pieces that I will create in this French-Terry collection! Are you ready?! I'll do 5-pocket sweatpants, a tailored bomber jacket, an oversized turtleneck dress, and a jumpsuit. Do you know how I will call the collection? – I will call it French-Tali." 
I was left in awe of how Roy's creative mind works! I'll be sitting here waiting for this new collection carrying my name to come out, thank you! (BTW, I might have gently forced Roy to call this hypothetical collection after my name… I just might. Never telling though).  
Trends – do you follow or keep interested in?
"I always meet trends in retrospect. I am aware of what's going on, but trends are not serving as the base for my design process."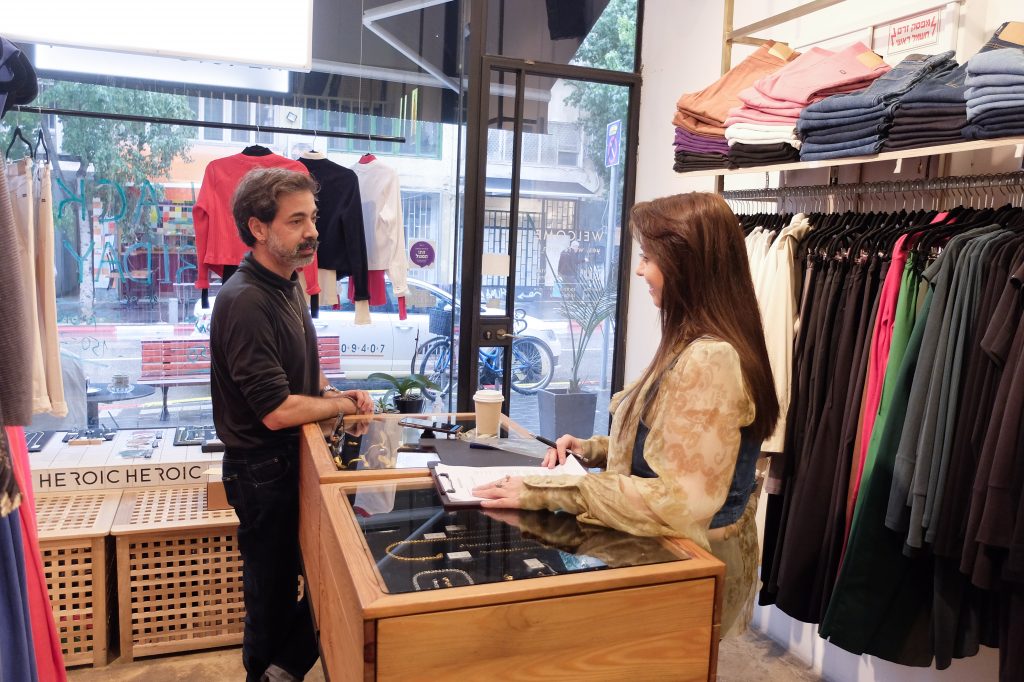 What is your contribution to Israeli fashion?
"High-quality fashion for everyday and events, focusing on meticulous tailoring and fitting, which is something I never compromise on. Also, I know how to accommodate a variety of body types, which is not trivial in the local fashion scene." 
Is there a place for Israeli fashion in the global fashion industry? 
"Definitely. There are many Israeli brands, Heroic included, that can stand out abroad. Israeli fashion has a special DNA, and we can for sure offer this uniqueness to markets worldwide." 
Tell me all about the new Fall/Winter 2020/21 collection 
"The focus is on pants, I envision Heroic becoming a brand dedicated to pants, along with complementary pieces, such as shirts, jackets, cardigans, bodysuits and also dresses that speak the same design language of this entire collection. The color palette is quite wide – pinks (antique pink, fuchsia pink, brick, cherry red), orange tones, brown, green, purple, navy blue and denim, and of course the basic black, white and cream. 
The print is very minimal in this collection, and in general, I don't use prints much in Heroic, unless it's a print that I've created or personalized.
The materials I used in this collection are knits (such as Cupro and cotton rib in varying textures), cotton/nylon, Tencel, corduroy, Daryl and denim."
Size range: 34-44, and some items are available in size 46. 
Price range: 290 ILS – 820 ILS.
About the writer – Tali Arbel (43), Writer-Model-Project Manager from the Jezreel Valley in the north of Israel, happily married with two amazing daughters and lots of animals. She devoted her 20's to the academy (BA in Communication Studies, and two Master Degrees – Public Administration and Logistics Management).
In her mid 30's she began the quest towards finding her true voice, passion & mission in life. She's studied & experienced in a variety of design and craft professions; Jewelry Design, Interior Design, Personal Styling. In recent years everything started to come together, especially since She joined Juicy Agency – founded by Ray Segev.
"I can see (more)clearly now as to what my purpose and true passion is, and it will always revolve around Fashion, whether I'm in front of the camera modeling, and/or writing about it." / Tali Arbel 
Ayen is excited to share Tali's journey while she is exploring local fashion designers. 
אז קימונו ליאור מור אלון קצת היסטוריה יפן. הקימונו הוא פריט לבוש מסורתי יפני. אנחנו מכירות ומכירים אותו מדמויות בסרטים, בין אם זאת גיישה או
Read More »
Chains לולאות הגר סידס צמיד של סבתא אני זוכרת את הסבתות שלי באירועים, מגיעות כשהשיער עומד מאוד גבוה בצבע קצת סגול, שמלה מהודרת ותכשיטים. תכשיטים,
Read More »
לה בלה פיגורה הגר סידס פינת רחוב 34 על שדרת ברודווי זאת הייתה הפעם הראשונה שלי במנהטן, הייתי בת 25, היינו ברחוב 34 על ברודווי
Read More »
ויקטוריאני – אוריינטלי הגר סידס "זאת המיטה שלי"  נכנסנו לסטודיו שלו שהוא למעשה הדירה שלו. דירת סטודיו עם שלוש מכונות תפירה, משטח עבודה וגזירה, ספה
Read More »
סיפור על אהבה לנעליים הגר סידס זוג מגפיים בצבע בריק את אהבתי לנעליים קיבלתי מאמא שלי. היא אוהבת נעליים ותיקים. כשהייתי קטנה, היה לה זוג
Read More »