Since its first day on Netflix, I received countless messages from friends and colleagues asking if I already watched the show. To be honest, I saw the thriller and just from seeing a glimpse of Paris I was so upset.

I love Paris. It was my twelfth birthday when my grandparents took me there for the first time; The main attraction of the trip was Disneyland Paris back then called EuroDisney. Although I was so obsessed with Mickey and Mini Mouse, I remember my grandmother buying warm baguettes, butter, and prosciutto in the grocery store, making me a sandwich while sitting next to The Galeries Lafayette.
Ten years later, I traveled to Paris with a partner and realized how romantic this city is. I know, it is something you can say about lots of cities in the world; The thing is, there is something in Paris, the old buildings, the French language and butter that make it the most romantic if you ask me.

During the years I visited Paris more times, and each time I loved it even more. The food, the style, the fashion, the smell, everything together makes Paris one of my favorite cities in the world.

While living in Atlanta, I became friends with two fabulous women that live in Paris. I planned on visiting them this year, but you know, a global pandemic came along and I don't know when I will get to do that; Watching Emily in Paris just made it harder.

Last weekend I decided to watch it.
The TV show is pure escapism to the world we are living in. Yes, it fell to every cliché in the world in my opinion, however, we need some clichés to go through these crazy times. The mean boss, the gay colleague, the American BFF, and the complicated love story. All there, keeping us wanting for more.
Besides the basic script that was not surprising at all, we received a reminder that our lives have changed. We don't do events anymore like we used to. We don't sit in the restaurant so close to each other and we don't walk without a mask. Emily in Paris is a reminder of the old Paris and the old world as we knew it.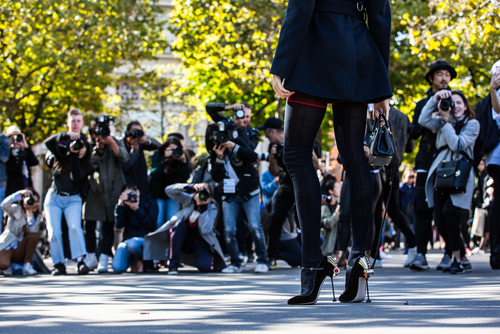 In my perspective, the show is dealing with the industries that were damaged the most this year such as tourism, hospitality, independent fashion, and social media influencers. Industries that are very close to my heart as I'm part of them. 
As a world traveler and social media savvy by myself, Emily is showing us the power of social media and how in one statement she created a story, and yet lots of digital influencers found themselves these days with no purpose nor content when the ability to leave their houses was taken from them. Emily represents the old version of social media influencers if you ask me. 

Like any other industry, fashion and e-commerce are going through lots of changes and adjustments to the new world. The influencers of the world need to make them as well.
In a way, there is some excitement to see the world-changing; Lots of meaningless influencers will disappear from our world making space for original creators and true storytellers.

My hope is that the creators and writers of Emily in Paris Second season are going to make space for the stories of our times and reflect in a way the changes we are all experiencing. 
Paris mon amour, I can't wait to visit you; buying baguettes, butter, and prosciutto in the grocery store; Making myself a sandwich while sitting next to The Galeries Lafayette. 
xoxo Me.
אז קימונו ליאור מור אלון קצת היסטוריה יפן. הקימונו הוא פריט לבוש מסורתי יפני. אנחנו מכירות ומכירים אותו מדמויות בסרטים, בין אם זאת גיישה או
Read More »
Chains לולאות הגר סידס צמיד של סבתא אני זוכרת את הסבתות שלי באירועים, מגיעות כשהשיער עומד מאוד גבוה בצבע קצת סגול, שמלה מהודרת ותכשיטים. תכשיטים,
Read More »
לה בלה פיגורה הגר סידס פינת רחוב 34 על שדרת ברודווי זאת הייתה הפעם הראשונה שלי במנהטן, הייתי בת 25, היינו ברחוב 34 על ברודווי
Read More »
ויקטוריאני – אוריינטלי הגר סידס "זאת המיטה שלי"  נכנסנו לסטודיו שלו שהוא למעשה הדירה שלו. דירת סטודיו עם שלוש מכונות תפירה, משטח עבודה וגזירה, ספה
Read More »
סיפור על אהבה לנעליים הגר סידס זוג מגפיים בצבע בריק את אהבתי לנעליים קיבלתי מאמא שלי. היא אוהבת נעליים ותיקים. כשהייתי קטנה, היה לה זוג
Read More »